Article: TWO WEEKS IN TUSCANY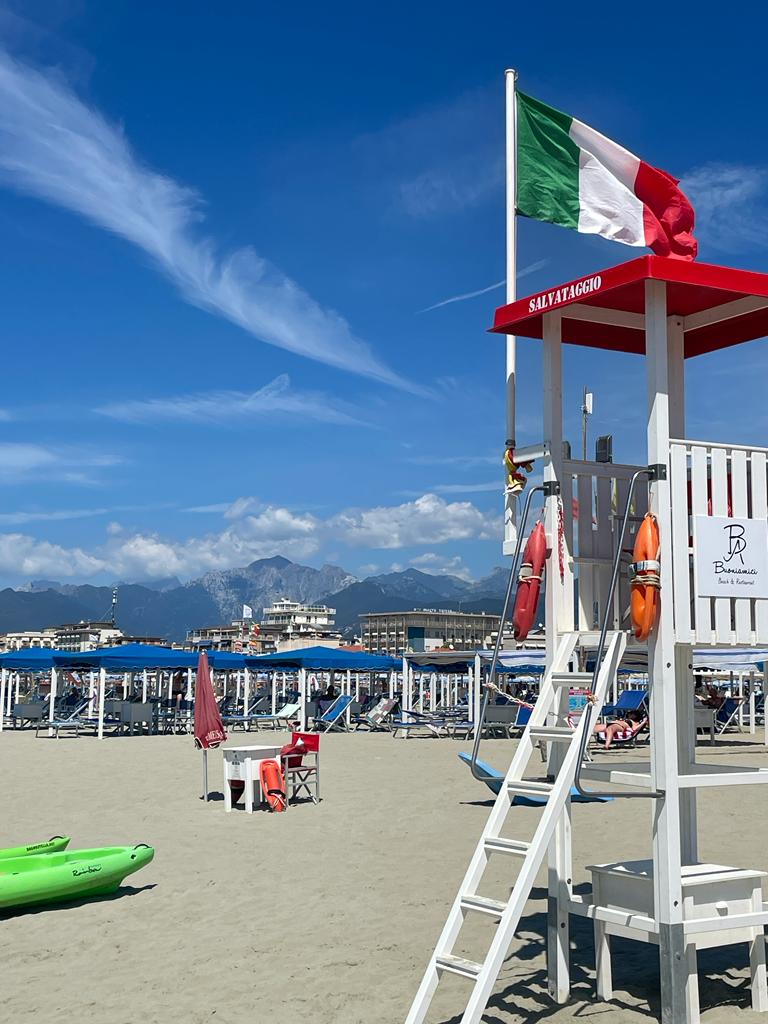 Italy is a huge part of Loel.  
It's where my mother started the business, threading beads by hand herself, and to this day it's where most of our pieces are crafted.
I adore the country, and it's been a massive part of my life. I studied in Piacenza.  My parents lived by the lakes in Lombardy.  And Rome is somewhere I've visited many times.  But, until recently, Tuscany had sort of passed me by.
This summer I was lucky enough to spend two weeks travelling the Tuscan coast.  It's our second year holidaying in the region, and I think we really nailed it this time.  
Lots of you messaged me on insta when I posted pics from the trip, asking for recommendations and tips, so I thought I'd get all the details down in one place.
I apologise in advance for all the talk of sun, sea and sand now our second summer seems to officially be over - as I write this all I can see are grey clouds out the window - so feel free to stop reading now.  Or maybe you'll feel inspired to plan a visit yourself.  I hope so
I think the highlight of our entire trip was the discover of this hidden gem nestled between Lucca and Pisa.
15 minutes from the airport, this 500 year old Tuscan villa offers a small range of suites and apartments within their beautifully manicured grounds. We stayed in the Zarina Catherine suite with the kids and it was ample for us.
Situated within the historical villa we were able to roam around the grounds, use the pool, games room etc. It's so incredibly peaceful you really feel like you are have been invited on holiday to stay with the owners.
I had chosen this particular accommodation due to its location as I had every intention of exploring the surrounding area, but in reality none of us wanted to leave. In fact we ended up staying in two of the three nights we were there to enjoy the Tuscan dinner they offer in the garden.
For €40pp you have a 'primi' (pasta course) of the day followed by a range of classic Tuscan dishes that the 'cuoca' (cook) rustled up that afternoon. This changes daily and as we are all vegetarian they prepared a range of dishes especially for us.
It really was a feast. My photo doesn't do it justice. Included in the meal is a bottle of local Tuscan wine of your choice, a home made dessert and limoncello made with lemons from the garden. These were possibly the best meals we had all holiday. I cannot recommend it highly enough.
I could rave for hours about the beauty of the place, whether it's the family antiques that adorn the rooms, the grounds and surroundings, or quite simply the generosity of the hosts (who own and grew up in the villa).
However its main attraction has to be its location. The local village itself is very small with a handful or fruiterias and food shops, but you are literally 15 mins drive from the stunning town of Lucca.
LUCCA
My love for the villa meant we only made it to Lucca once, but I am determined to go back.
It's famous for its Renaissance walls encircling the historic city centre and 16th & 17th century ramparts, perfect for strolling around in the summer evening. Lucca is also the birth place of Puccini so it's steeped in history and architectural beauty.
As you can imagine there are a number of stunning restaurants and cafes in the city.
The owners of the villa had recommended here but it was closed on the evening we went so we ended up sitting in a small corner bar on Piazza Napoleone called Pizzeria  da Franchino - you couldn't get more Italian if you tried. It was perfect. Pizza, pasta, and wine by the carafe.
PISA
15 minutes in the other direction from Borgo Studiati is the historical town of Pisa. Most people just fly into the airport and leave, but if you have the chance it is really worth a visit. You feel like you've walked onto a set of Romeo and Juliet. Truly breathtaking.
If you're struggling to fit it into your itinerary a little tip is to book a later flight home and just visit for the day as the airport is literally 15 mins away. That's what we did the first year we visited and loved it.
I had every intention of returning again this year but the magic of Borgo Studiati made me choose to stay there instead of venturing out. Next year maybe…
TIPS: A few tips we took away from our first three days were:
You need a car. We didn't book but will do next time. Taxis in Italy, especially outside of the city, are incredibly expensive and they charge you travel time so you may well find there's already €30 on the meter when they come and pick you up. This was another reason we didn't leave the hotel much.

If you're into cycling (which my husband is) the surrounding areas are some of the most beautiful cycling routes in Europe. We didn't take his bike with us but instead arranged to rent one from Amici Bici in Lucca. They couldn't have been more accommodating - selecting the right bike for his level, helping him plan routes, as well as restaurant recommendations in Lucca. It really was the highlight of his trip.
LIDO DI CAMAIORE
With a heavy heart and promises of return we left Borgo Studiati for the second leg of our trip to the Tuscan coast.
When I think of Tuscany I imagine rolling hills, vineyards and art, but in fact it also has 230km of coastline from the civilised 'bagno' in Versilia in the North, to the crystal clear waters in Maremma in the South.
We had settled on the bustling coastal town of Lido di Camaiore located between the upmarket Forte dei Marmi and the faded grandeur of Viareggio. It felt like a happy medium between the two really - plenty of life and activity, but without the crowds or expense.
The hotel I booked was called Hotel Europa - a small 4* hotel in a stunning pink Art Nouveau style villa, a street away from the seafront. I had booked two interconnecting rooms, and was blown away when they upgraded us to the only room with a sun terrace and sea views.
The hotel itself may feel a little dated, but it had everything we could ask for including a small family pool at the front of the hotel for the kids to splash about it after a day on the beach. Plus the staff could not have been more helpful or friendly.
Lido di Camaiore if definitely a cycling town with a dedicated cycle path along the coast road and the hotel itself offers free bikes to use during your stay - the best way to get to Forte dei Marmi or Viareggio for example.
'BAGNI'
'Bagni' are the beach clubs that adorn the Italian coast with their colourful umbrellas and row upon row of sunbeds. There are public beaches interspersed between the different clubs but if you have the funds I would definitely treat yourself to one of the many beach clubs in Lido di Camaoire.
Prices differ between them, and the hotels usually have deals with the ones immediately in front of them, but you can expect to pay around €30 for the day for two beds and an umbrella.
You are not charged per person, so if you are going with the family and your kids don't need a bed like mine, it feels pretty reasonable. With that you have access to the sea with a lifeguard, your beds and umbrella of course, as well as toilets, showers and usually some kind of kids activities.
They normally have their own cafe or restaurant for lunch, but many people bring their own food. Some also have a swimming pool at the front of the club but they usually charge more, insist you wear a swimming hat and are mainly taken up with swimming lessons, so I really wouldn't bother with the extra expense.
I had booked Bagno Marusca in advance as it was a 5 minute walk from the hotel, had its own restaurant and was right next to the pier. We loved it. Immaculately clean, friendly, and the food was delicious. It really was the most peaceful beach experience.
I would definitely try and book your beach clubs in advance if possible as many are booked up the whole summer, and the last thing you want to do is traipse from one to another in the heat.
As mentioned your hotel might have an arrangement with one or two clubs nearby so you could speak to them when booking your accommodation.
THE BEST PIZZA IN TOWN
As you can imagine there are plenty of eateries in town - many along the stunning promenade at varying prices. However I was determined to go to Pizzeria Flaminio for obvious reasons! It also happened to be across the road from the hotel so couldn't have been more perfect.
It's not fancy - strip lighting, old worn out leather chairs and a huge TV screen showing Spongebob in Italian - but don't let the decor fool you. The pizzas are honestly to die for. It's full of Italians which says a lot, the 'carabinieri' (police) even popped in for a bite to eat, and if that's not a recommendation then I don't know what is.
I would head back to Lido di Camaiore for this place alone.
VIAREGGIO
We were only in Lido for three nights so decided to visit Viareggio rather than Forte dei Marmi this time. We walked the coastal promenade all the way there which was pretty beautiful during sunset.
Viareggio is much grander and busier than Lido di Camaiore but it's also stunning. Unlike many seaside resorts the original Art Nouveau villas remain along the front, each more beautiful than the last.
Typical faded Tuscan colours with frescos, mouldings and exquisite architectural detailing. The original beach club facades also remain along the seafront and these are quite something to behold.
We decided to head away from the front and wandered around the back streets and stumbled across L'Osteria L'imbarco which looked absolutely amazing, but sadly was fully booked so we ended up at an lovely little Pizza place around the corner overlooking the church. However if you are heading to Viareggio I would definitely book L'imbarco as reviews are incredible.
IL PONTILE
Our last evening in Lido we headed to the Sunset bar on the Pontile (pier) for 'Aperitivo' (basically a drink with free snacks) Their offering is pretty incredible with homemade focaccia, barley risotto bowls, pastries and cheese. You almost don't need to go out for dinner afterwards.
Its location is stunning - right at the edge of pier with views across the whole sea front and the most glorious sunset. I think this was my favourite part of our trip there (closely followed by the pizza).
TIPS:
A few tips from the middle leg:
Make the most of the free bikes available to visit the different towns along the coast.

Book your beach club in advance if you think you would like to enjoy one during your stay.

Make sure to try two of the best iced coffees Italy has to offer. The first is something called a Shakeratto - black coffee shaken in a cocktail mixer with ice and poured into a cocktail glass - so simple but so delicious. The second is a Crema Cafe - you'll see them in what looks like a Slush Puppy machine. Its somewhere between a coffee ice cream and a coffee mousse - so amazing!
We didn't get the chance to go, but everyone we spoke to said Piertrasanta is a must - an artistic medieval town about 15 minutes away. It's famous for the Roman ruins, marble and artistic community. Definitely a place we plan to visit on our next trip.
VILLAGGIO I SORBIZZI
And so, after a week of new adventures we headed off for a bit of familiarity.
Sorbizzi is located about 45 minutes from Pisa airport in the seaside village of Marina di Bibbona. It describes itself as a Family Beach Resort, but it's so hard to truly explain its magic.
The first thing that hits you you drive through the resort gates is the smell - a mix of pine and seasalt. Totally intoxicating.
This is the second year in a row that we have come, and it definitely won't be the last.
The resort is nestled in a private pine forest on the coast with its own private beach. It's made up of a handful of self catered villas and apartments of varying size.
We stayed in a newly refurbished apartment on the first floor. Each villa and apartment also has some outside space with seating and dining area. I wouldn't call the accommodation luxurious, but its very comfortable and perfect for us.
Within the resort you'll find a large peaceful communal pool and a private beach club - beds for both are part of your stay.  There's an amazing poolside restaurant and beach club.
They also recently built a new Paddle court with the option of lessons from the dedicated instructor.
But the highlight for us is the free kids entertainment. You can't really call it a kids club, more a group of teenagers who round up the kids to play games on the beach and around the grounds. My kids loved every minute of it, and you can dip in and out of it as and when you wish. No booking or stressful drop offs required.
The main attraction of the place is its exclusivity. There grounds are large but there's only a small number of villas on the resort, so it always feels peaceful, calm and private. You can always find a bed by the pool or beach, and you never have to worry about getting a table at the restaurant, even in the height of the summer holidays.
You can be as involved in the resort activities as you wish - there's something going on most evenings. Whether that's pizza on the beach with live music, table tennis and Paddle tournaments, or Ferragosto fireworks on the beach.
However if you prefer to sit on your apartment terrace with a glass of wine instead you can totally to do that too.
MARINA DI BIBBONA
This local village isn't the classic picturesque Italian seaside town, but it does have its own charm. There are a number of local restaurants which serve all the usual Tuscan cuisine, and a few lovely local food shops offering delicious breads, pastries, and local produce to cook up a feast in your accommodation.

There is also a weekly market every Wednesday morning, full of fresh fruit and veg as well as stalls selling linen clothes and kitchen paraphernalia. I love these little markets and always find something to take home in my hand luggage.
This year it was a few of these Dolce & Gabbana-esque garden plates. Why not!
What the village lacks in beauty it makes up for in location. It's perfect for visiting some of the most incredible walled hillside villages in the area.
BOLGHERI
The most famous perhaps is the village of Bolgheri about 15 minutes from the resort. Driving through the cypress tree lined hill up to the historical red brick castle you reach a small perfectly formed enchanting Tuscan village.
As precious as it is small. Packed with little shops and restaurants, it's the perfect escape in the early evening for a little shop and a sunset meal.
The village is surrounded by vineyards. The most famous of which is the Super Tuscan 'Sassicaia', produced by Tenuta San Guido. There are other excellent local wines at much cheaper prices - my favourite is the Vermentino Bolgheri.
It's also known for it's perfumes - Aqua di Bolgheri is perhaps the most well known as the perfumes are made and produced in the surrounding area. The village has a small dedicated shop where you can buy their scents and soaps.
There are also a couple of shops selling some exquisite Tuscan crockery - not easy to take home in your luggage, but worth a try.
CASTAGNETO CARDUCCI
My favourite village however has to be Castagneto Caducci - again about 15 mins drive from the resort. Another hillside village with panoramic views of the Tuscan countryside and medieval walls.
Park your car in the large car park at the bottom of the village and walk through the cobbled streets up to the centre of the village in time for sunset. It's quite something.
As you can imagine there are a number of lovely restaurants in the village - some with fabulous views. However our favourite is right in the square, amongst the hustle and bustle of village life.
S'a' di d'anda is really more of a wine bar than a restaurant but they offer a few pasta dishes and the most delicious Tuscan crostini. But the highlight is their extensive wine list that they offer by the glass. In fact you can have a glass of the aforementioned Sassicaia which is pretty much unheard of.  
After dinner indulge in a scoop of ice cream from the little gelateria around the corner. My favourite flavour is Pistachio but they have some amazing seasonal options too.
And make sure you walk up the hill towards the church as there is a small little antiques shop where I picked up a few little treasures including a small Madonna statue surrounded by shells - as you do.
Our final week in Sorbizzi usually consists of mornings by the beach trying out paddle boarding, lunches in the beach bar, afternoons reading by the pool (I got through 4 books while I was there!) and evenings either by the pool restaurant or a trip to the villages mentioned above.
In all honesty I barely used the kitchen in our apartment as the food is so delicious and well priced at the resort and in the village that I didn't really feel like it.
BOOKS
Talking of books, these are the ones I read while away if this is of any interest to you.
DEMON COPPERHEAD - Barbara Kingsolver
Absolutely LOVED this book. It's a reimagining of Dicken's David Copperfield set in Rust Belt America during the opioid crisis. It's utterly immersive, full of beautifully flawed characters in heartbreaking situations. It's a book I'll be passing onto all my friends for years to come.
LESSONS IN CHEMISTRY - Bonnie Garmus
I'm probably a little late to the party on this one as it was one of the books of last summer. However it was the perfect holiday read. Easy, fun, lighthearted with an element of intellect to keep me engaged. Its not going to blow your mind but I very much look forward to watching the TV series when it comes out.
TRANSCENDENT KINGDOM - Yaa Gyasi
I loved Gyasi's first novel 'Home Going' so was keen to get stuck into this one the minute it came out. It tells the story of Gifty, a Ghanaian American Phd student dealing with a family of depression and addiction while trying to find her way through her grief and ambition. It was an extremely moving and emotional book - probably a little heavy for a beach read, but I enjoyed it all the same.
BEST OF FRIENDS - Kamila Shamsie
This was perhaps my least favourite of the ones I read. Again I had loved Shamsie's earlier book Home Fire so was excited about this new one. The book explores the story of childhood friendship and how it's tested through class, ideology and justice. I can't explain why I didn't warm to it so much - perhaps it was on the back of the other three which I much preferred.
BEAUTY TIPS
I am no beauty writer but wanted to share a few little tips that I found incredibly helpful during my two weeks away.
BITE AWAY PEN - Unfortunately you just cant get away from mosquitoes in summer - especially near the sea and in the middle of a pine forest. However having suffered in the past I had been recommended this magic pen from a pharmacist in Spain. I don't really know how it works, and it does hurt a little bit, BUT it really is a miracle cure for an itchy bite. I have been travelling with it ever since and it's a life saver.
EAU DYNAMISANTE - CLARINS - A while ago I featured this legendary perfume in my Sunday Supps as apparently Kate Moss covers herself in it during the summer months. When I posted that one lovely follower also mentioned that it's a mosquito repellent, so not only do you smell delicious but you are also protecting yourself from the little blood suckers. I bought a large bottle in Duty Free and smothered myself in it while away. I'm not sure whether it's true or not, but I definitely had the least amount of bites in the family and I smelt pretty nice too.
JONES ROAD - MIRACLE BALM - Again another product that I have raved about in Sunday Supps. I decanted my favourite shades (Bronze, Flushed) in small Boots pots and used it liberally throughout the holiday for that perfect beach glow.
So thats it! I hope you've enjoyed my rambling blog about our two weeks in Tuscany. For anyone heading to that part of the world, fingers crossed you found it helpful, or maybe it might inspire you to think of Italy as your next holiday destination. If you have any questions at all please do let me know - I'm always happy to help.
I know I am incredibly lucky to have the opportunity to go away during the summer holidays and I definitely don't take it for granted.
There were so many highlights to the trip but in all honesty the most heartwarming part of my holiday was the fact that I get to spend the final week with my best friend and her family. I have known Carla since our first week at UCL where we both studied Italian - 25 years later and four kids between us we are the same giggly girls enjoying everything there is to love about Italy.
Thank you again.
Andrea x