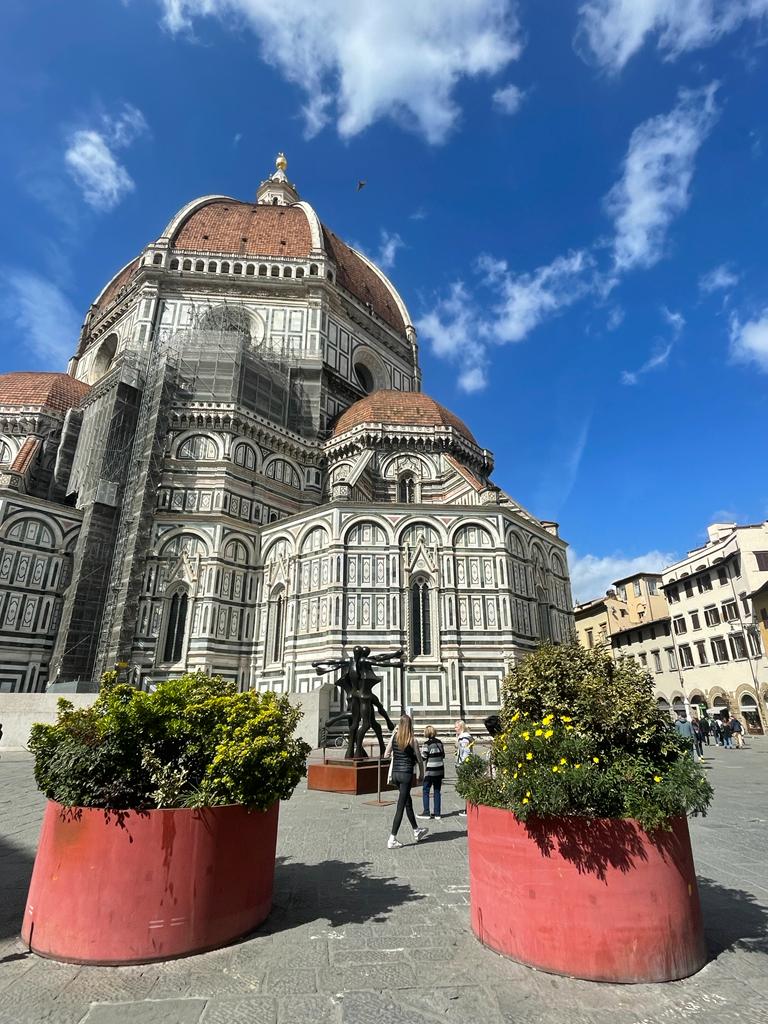 As part of my university degree I had the joy of spending a year studying in Italy with two of my best friends. We lived in Piacenza and although we had every intention of travelling around the country, in reality we spent most of our time eating pizza, sunbathing and shopping. When we finally returned to reality in London we promised that we would one day go back and visit Florence. 25 years later we finally got our act together and booked a brief 48hrs away.
First of all I have to say I love Italy, as you probably already know. Nearly all of our jewellery comes from Italy, my parents used to live there and I spent my honeymoon in Rome. There is nowhere else in the world I would rather be. Despite all that I was not prepared for the splendour and magnificence of Florence. It really has to be seen to be believed.
The two days we had barely scratched the surface of what the city has to offer, but I did make sure that we crammed as much in as physically possible. I pulled together an itinerary based on the recommendations and research I had compiled before we left hoping to find those local gems that I'm sure were hidden within the city.
Below is a snap shot of our weekend in case you have the joy of visiting yourselves -along with a few little tips that we found invaluable.
Enjoy x
1. WHEN TO GO
I would say this is key. We went at the end of March (the last weekend of March in fact which will become apparent later on). The days were sunny but fresh and although the city was busy it didnt have the hoards of tourists that come to visit Tuscany in the Spring. This meant that the museums, churches and restaurants were not packed and queuing was at a minimum. Early Autumn is also meant to be glorious.
2. ACCOMMODATION
We decided on an Air BnB rather than a hotel. Mainly because as we were three it was better value and meant we could all be together. Our lovely little split level apartment was located just behind the Uffizzi Gallery in the Santa Croce district. It was a perfect base to walk all over the city. Close to all the key attractions on both sides of the river Arno.
 TIP: I had read that the best way to get to the centre of the city from the airport was to take the tram. It was brilliant. The station is literally just outside of the airport with no steps, so easy enough with your luggage. Tickets costs €1.50 but remember to stamp them when you get on the train. They depart every 10 minutes to the main city station of Santa Maria Novella. From there we walked the 15 minutes through the city to our accommodation. Couldn't have been easier - or cheaper!
3. MUSEUMS & CHURCHES
 Uffizzi Gallery
We were all realistic about what we were going to be able to achieve in the time we had so decided that we would only visit the Uffizzi this time round and save the others for our return trip.
The tip we received was to go towards the end of the day rather than first thing. The museum is quieter and the queues are at a minimum. In fact we walked straight in having pre-booked our tickets for 4pm.
The gallery is vast with over 100,000 pieces of art. With only 2 hours to soak it all up so another tip from an expert was to bypass the sculptures and head straight for the artworks you know you wanted to see. We followed this guide on the key pieces that we should visit. I have to admit we all welled up when we turned the corner to find Botticelli's The Birth of Venus - it was quite breath taking.
We made sure to make time for a quick glass of wine on the rooftop terrace. There was a bit of a queue but definitely worth the wait. I'm also a sucker for a gift shop and this one is pretty impressive. A huge collection of art books but also a wonderful range of gifts for kids that felt a little bit more special than the toot you buy in the souvenir shops.
Basilica di Santa Spirito
You may wonder why, when we were surrounded by some of the most beautiful churches in the world, we chose to visit this rather ordinary looking one in Oltrone. Well its located right in the heart of Piazza Santo Spirito, its free to get in with no queues, and once you step inside you are transfixed by its peace and beauty. It also has a secret attraction.
For €2 you can visit the secluded courtyard and chapel that houses a carved wooden crucifix that Michelangelo made when he was 18 to thank the Prior of Santo Spirito for his hospitality during his studies. It's incredibly beautiful and without the hoards of tourists you get to stand and gaze at it in peace.
4. FOOD & DRINK
La Menagere
We stopped here for lunch on our first day and loved it. Off the heavily beaten tourist track this little haven tucked inside a courtyard serves up delicious light dishes that are unusual for the region. It also had the most stunning little florist selling candles, crockery and artisanal products. It even has a private members bar if you're looking for a quiet place to have a drink in the evening.
Il Santo Bevitore
In the evenings we strolled across the Ponte Vecchio heading towards the trendier Oltrarno district. It's where the younger locals and clued up tourists head to. We stopped for a drink at Piazza Santo Spirito before heading to this hugely popular local haunt. The restaurant hosts an incredible selection of local wines at really affordable prices along with a selection of modern Tuscan food. Absolutely delicious. Booking is essential and can only be done by phone up to 2 weeks in advance. But trust me its worth the effort.
Trattoria Cammillo
Another Florentine gem that I knew I wanted to visit when I saw my fave Luke Edward Hall posting about it a few months ago. Again located in the Oltrarno district this local favourite serves up delicious Tuscan dishes in a fun relaxed atmosphere. It was heaving with life on a Sunday evening so make sure to book.
Trattoria ZaZa
This is the one place we didnt book and should have. We thought we would be able to walk in for lunch on a Sunday but the queues were around the block - even if you had booked! However I am definitely keen to go back. We ended up here instead and had an amazing pizza and glass of wine so not all bad.
Loggia Roof Top Bar
One of the other recommendations was to visit one of the many roof top bars in the city to get a full sense of it's beauty. I booked a table at this particular bar at the top of the Hotel Palazzo Gaudagni where you can sit and have a drink on their stunning terrace. Even though the heavens opened while we were there it was still magical and definitely one of the highlights of our trip.
TIP: Have a glass of the Franciacorta - its a sparkling white wine, not as sweet as Prosseco and not as bubbly as Champagne. Delicious.
5. SHOPPING
I definitely DID NOT bring a big enough suitcase. You would think 'how much shopping can you do in 48 hours?' Trust me a lot. Especially when it is all so beautiful and unique. My advice is to by pass all the clothes shops, particularly all your high street favourites and instead head to all the incredible artisanal shops that Florence is know for.
Officina Profumo Farmaceutica di Santa Maria Novella
This incredible space is considered the oldest pharmacy in the world. Originally a small church just outside the city walls, where Dominican monks cultivated a botanical garden of herbs and plants to craft medicines, ointments and balms. The monks later developed their flagship perfume 'Aqua della Regina' for Catherine de Medici in 1533 and this is still available today. There are a number of stores around the city but the only one to visit is their boutique museum in Via della Scala. This is the original San Niccolò-devoted chapel that was donated to the monks in 1334. It is simply stunning. As beautiful as any chapel you would see in Florence. Plus the candles, perfumes and toiletries on offer are pretty special. If you dont know what to take home with you I would recommend these gorgeous scented wax bars.
There are a number of other stunning Perfumeries in the city - one definitely worth a visit is Aquaflor. Its interiors shop next door is also stunning.
Il Papiro
I am a proper stationary addict so Il Papiro was heavenly. The company has been producing items in hand decorated paper using techniques inspired by the Tuscan tradition since 1976. It has the most incredible selection of hand marbled paper, books and accessories - perfect for gifts to take home. There are a few stores around the city and some will even show you their marbling techniques in store.
Scuola del Cuoio
Leather goods are everywhere in Florence. Whether its the small touristy shops along the narrow streets or the large designer stores it may be hard to work out whether what you're buying is any good. Another brilliant piece of advice was to visit La Scuola dei Cuoio' (Leather School). Founded after the second WW it remains the largest genuine laboratory in the city where clients can witness the artisans create the leather goods in the midst of centuries-old history. Tucked away in a peaceful 13th century church you can take your time watching the students at work and pick up a buttery soft leather purse or bag confident that you're getting true Florentine quality.
Mercato dei Pulci
With great serendipity it just so happened that the weekend we were in Florence was also the weekend of its monthly flea market. There is nothing that brings me more joy than trawling through the boxes of dusty old things and finding a gem! The market is on the last Sunday of every month and is in the Santa Croce district. Its right next to the Cibreo cafe where my very patient friends waited for me to have a rummage through all the delights. I could have bought everything there but came back with some crockery, antique tablecloths and more water fonts.
And that I think pretty much sums up our 48 hours in the city of love. It definitely wasn't long enough and we're busy planning our next trip - along with me telling everyone and anyone how much I loved it. Wear comfortable shoes, bring a big suitcase and just get lost in one of the most beautiful cities in the world.
Ciao x