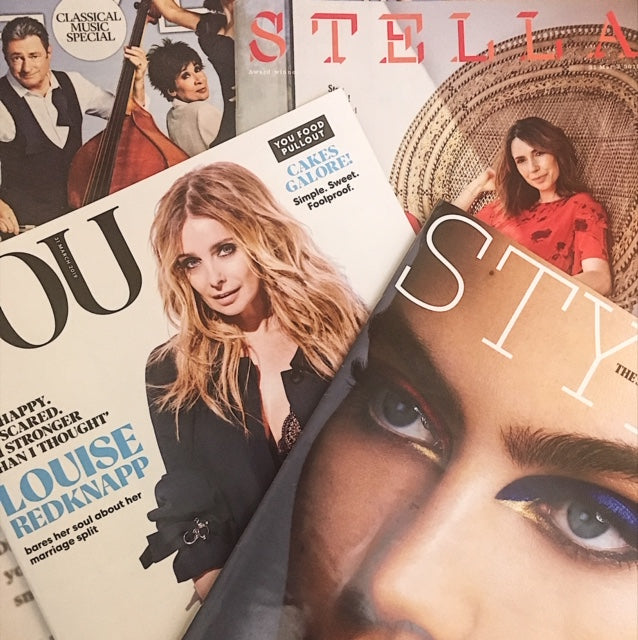 SUNDAY SUPPS - 31st MARCH
I hope everyone had a lovely Mother's Day. Ours was spent in the garden enjoying the sunshine. I picked up the Sunday papers and sat down with a glass of wine to go through them all for my usual Sunday Supplements edit - not a bad Mother's Day really.
Here are my favourite bits:
Another amazing supermarket find. This Asda skirt reminds me so much of the Realisation Par one but at a fraction of the price. 
With the weather turning colder this week this jumper will certainly brighten up your day. Yellow and woollen - what's not to love.
Leopard print doesnt seem to be going anywhere anytime soon. If so then this amazing Ganni co-ord is just the ticket.
I just love it when a fashion fad is both stylish and comfortable. Will be investing in any track pant that I can find while it lasts.
Loving this New Look hair tie - half scrunchie, half scarf. 
I've been meaning to try something from The Inkey List for awhile so might have to make this my first purchase.
I'm all about the glow - anything to make me look 25 again. 
The legendary Par McGrath has launched her own line of make up. I want everything but these were the Sunday Times Beauty Editor's favourites.
And she kindly gave us some useful tips to create the perfect eyeliner. Will have to give this a go later on this week. Will let you know how I get on!
Just general bedroom goals here.
And finally...15th of April. That's all I need to say!
Have a lovely week everyone
x